Artist Raphael Vangelis started his new project Brickflats last summer: a series of miniature flats, made with resin, replacing missing bricks in walls around cities.
He hopes to provide commentary on both the claustrophobia most felt over the pandemic's lockdowns and on how, as Vangelis puts it, the "worldwide housing situation is a joke".
There's also definitely an element of fun to them; "These little handcrafted stories play with this topic and can hopefully bring a smile to some faces."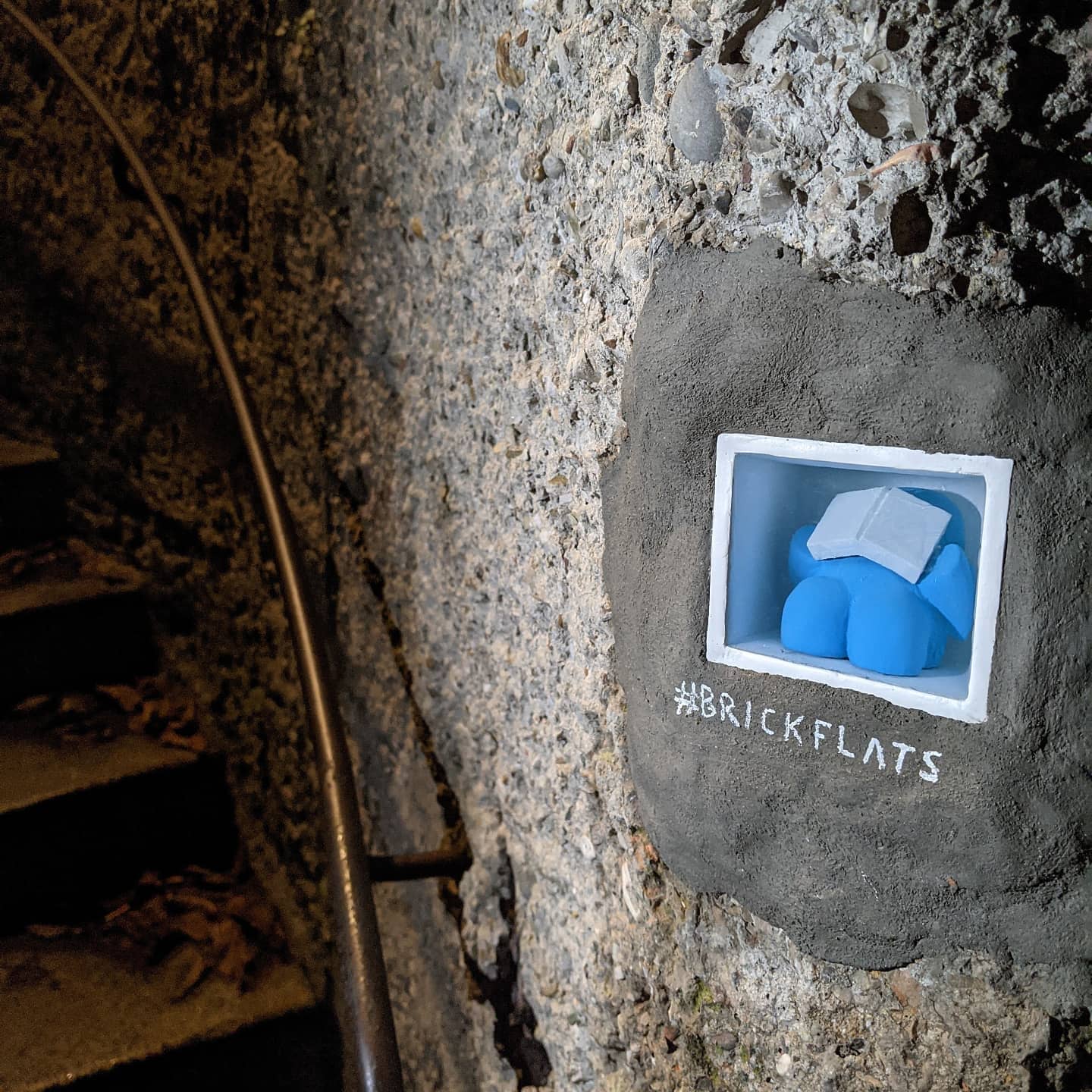 What's the response been like?
There's been a heartwarming response to the Brickflats project, with many stumbling across them and Vangelis is "surprised" with the large reaction so far, considering how new the project is. Some now hunt for new brickflats and send him selfies with their collections, and a four year old found one and remade it out of lego when he got home.
"My highlight was when I put the first really visible one: "Poorple Guy" on Church Street in Stoke Newington and as soon I revealed it and crossed the street a mum came by."
"She lifted her kid to look into the brickflat; that warmed my heart."
"To me the most valuable responses are definitely of people who stumbled across a brickflat on the street and it made them smile. That was and is simply always the aim."
He even found one of his earlier brickflats 'Squeezed In' on the popular subreddit r/whatisthisthing. On his site, Vangelis describes the intent of 'Squeezed In' to represent the "(mild forms of) claustrophobia" brought by the pandemic to all of us. "We all felt boxed into our flats for a while. This guy chronicles that."
What does the process look like?
When asked how he scouts out locations for new brickflats, Vangelis jokes "let's just say: going anywhere with me has become a pain."
He's "constantly scanning walls. The perfect spot is: a full missing brick on a corner at about eye level in a busy street. This is a very specific thing to find and to me it is the unattainable holy grail. So with that constantly in the back of my head I scan streets and try to find nooks that could be equally or at least nearly as good."
"In the beginning I wanted them to all be exactly the size of a brick. The reality is: sometimes there is only half or a fragment of brick missing in a wall - so I adjust to that."
"Right now my process has definitely become to scout for places first, measure and design for that particular place. I also prefer this because I can work the surroundings into the storytelling. E.g. "Showerhead" is placed above a broken drainage-pipe ... as if connected."
The first brickflat, 'Mr Sunshine' - "a permanent sunbather in Butterfield Green Park (Stoke Newington, London)" - taught Vangelis a lot about the physical process of producing one of these pieces. After a few months, 'Mr Sunshine' lost some of his colour, teaching Vangelis to use different, non-desaturating materials in future.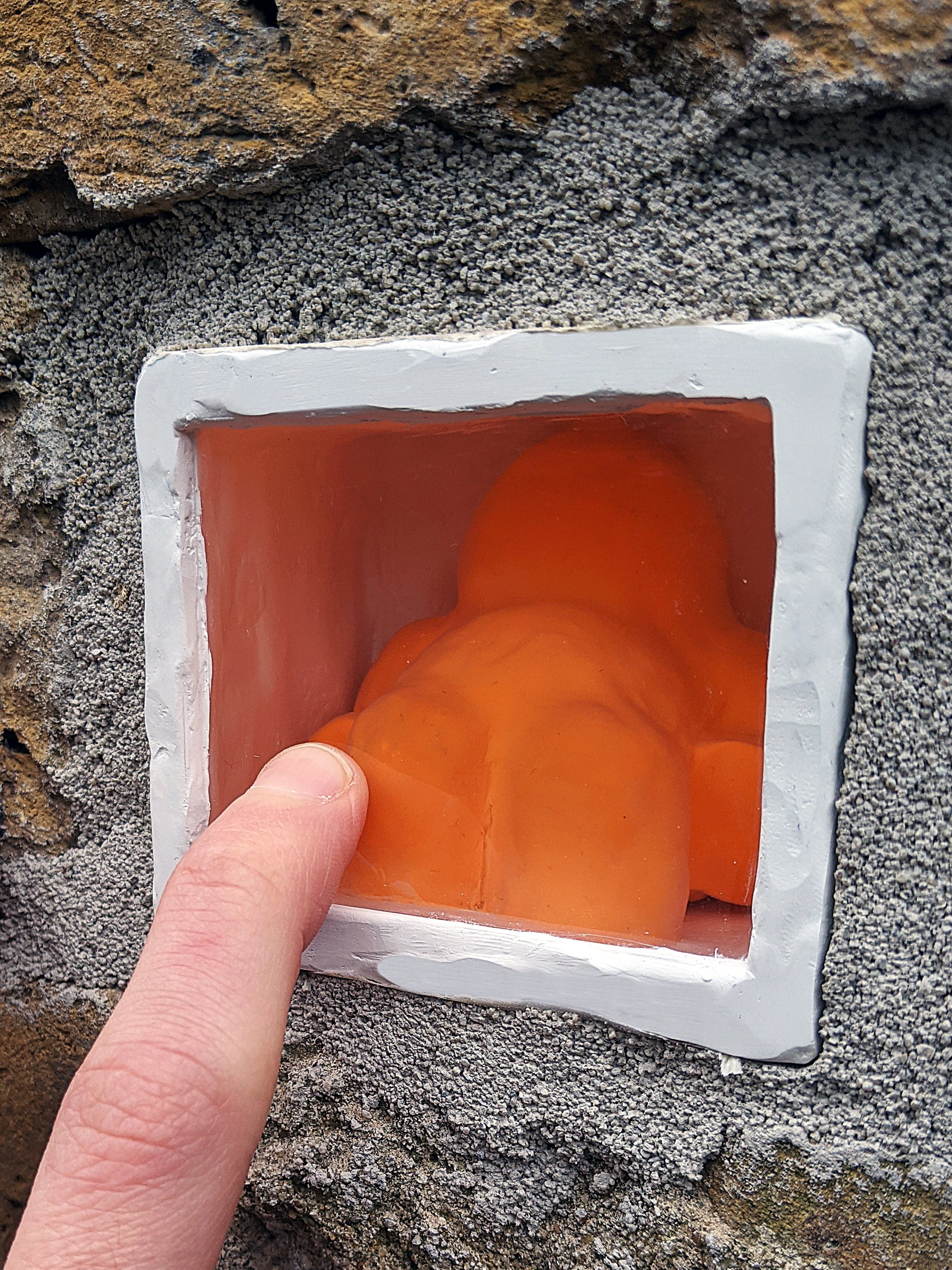 He's "constantly" making adjustments to the process; "this whole project is a huge learning curve".
"It took me months of failed model tests before I even had something to put in a wall."
"If my respect for craftsmanship wasn't already so high - it would have skyrocketed with this project."
What upcoming brickflats can we expect?!
"Right now in the very near future I am planning the smallest as well as the biggest installation yet."
"There is always 2-5 brickflats in the planning since it takes a fair amount of time to produce them; at the same time I always keep my eyes open for great new spots/ideas. If one of them super excites me I usually do that before anything else."
You can also check the brickflats map here, and keep up to date on the brickflat's Twitter and Instagram.
(Visited 653 times, 1 visits today)