Despite the fact that some venues have been able to host smaller, less dynamic live music events - including the local Gosforth Park stage - it's been a while since anyone has been able to experience the thrill of a real gig, getting up close with strangers with one mutual passion. Our music writers reminisce on their last memory of seeing an artist up close and personal before lockdown 1.0 came in back in March.
Sam Fender
The 16th and 17th February 2020 are a couple of dates that will stay in my mind for a long time. After initial plans to see Sam Fender in the Toon last December were cancelled, being rescheduled so close to The 1975's Newcastle show meant it would be a couple of nights of live music to remember.
With 2 gigs in such close proximity, it was impossible not to compare. While seeing The 1975 for the first time fulfilled an aspiration that had been lingering since my teenage years, the buzz that surrounded the most loved musician in the Toon gave a live music experience like no other.
Topped off by an intimate O2 venue and crowds of bustling Geordies, it's hard to believe that a little over a month later we had entered a national lockdown.
From renditions of Springsteen to getting a fan up to sing with him on stage, it was obvious that Fender was in his element. After a string of vocal setbacks, there was nowhere better than Newcastle to make his return.
A personal highlight from the gig was 'The Borders,' a song which tells the story of Fender and his friends growing up in the North East.
In August I was fortunate enough to get tickets to Fender's socially distanced concert at Gosforth Park with the same friend I went to see him with in February. It seemed pretty fitting that his was my last gig before lockdown and the first glimmer of live music I experienced as the country momentarily emerged over summer.
Perhaps even more surreal than seeing him twice in circumstances that couldn't have been further apart, was the 19 second snippet of video taken from each gig; each one capturing the very same part of the song.
Live music may be off the cards for the time being, but reliving those memories makes me all the more excited for the day we can go back.
Singing 'Hypersonic Missiles' at the top of my lungs as the night came to a close, there are few moments that I've felt more alive.
Lily Holbrook
The Big Moon
Had I known The Big Moon at Summerhall was going to be my last gig for the foreseeable future, I probably wouldn't have done much differently. From smuggling in a whole bottle of wine via dungaree pockets, to singing the high notes so badly you could hear me on video, to drunkenly and tearfully begging security for the setlist at the end (it worked), I unknowingly crammed in everything that is so special about gigs into one purely joyful night.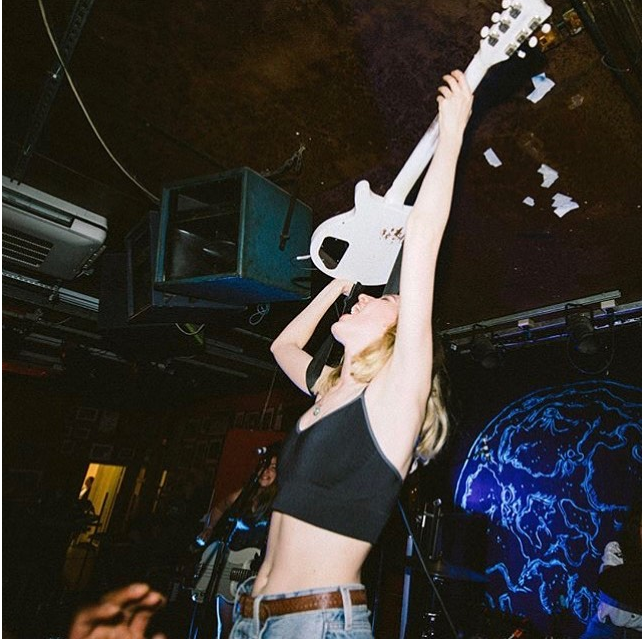 Support act Prima Queen charmed the long sold-out crowd of the intimate room of the Edinburgh (thank you Megabus) arts complex, so when The Big Moon arrived on stage the energy was feverish and infectious. Blitzing through a mixture of tracks both beloved from their debut and refreshing, groovier cuts from latest album Walking Like We Do, including anthemic sing-along 'Waves' and 90's boy-band inspired 'Take A Piece', the room was brimming with fans screaming along, holding hands and dancing with strangers.
A cover of Fatboy Slim banger 'Praise You' and the addition of live flutes and trumpets, alternated between band members, kept things upbeat musically, while Juliette Jackson's flawless song writing spoke for itself in poetic observations and immediately catchy riffs. The show ended with 'Your Light', an uplifting and raucous favourite that also functions perfectly many months later as a quarantine disco pick-me-up, brimming with golden synths and danceable refrains.
Like many of us I'm sure, this is easily the longest I've been without a gig since I was 13, and the absence of these blissful pockets of dancing/singing/crying is definitely felt, not merely in my unexpected longing to get pushed over in a mosh-pit one more time. But remembering the sheer joy that comes from seeing one of your favourite bands live, the hugs and rooms full of smiles at the end, will have to do for now.
Leonie Bellini
(Visited 191 times, 1 visits today)