Raise your hand if you're a podcasts binge listener… I sure am and regardless of your taste I am coming at you with a psychological, a scientific/political and a creative option that will let you find something for yourself.
Unlocking Us
Brene Brown is a researcher professor at the University of Houston, foundation owner, writer and since recently a podcaster. Over the last two decades she has been exploring the phenomenon of courage, vulnerability and shame and is an author of the #1 New York Times best sellers: The Gifts of Imperfection, Daring Greatly, Rising Strong, Braving the Wilderness and Dare to Lead.
In her podcast Unlocking Us, Brene talks with writers, activists, artists and leaders about empathy, finding the courage to live a wholehearted life as well as living to your full potential by choosing the discomfort over comfort. Among the guests, we can hear Glennon Doyle the author of the number one New York Times bestseller Untamed, Tarana Burke, an activist and founder of a Me Too movement as well as Alicia Keys a well-known singer, songwriter and the author of recently published autobiography More Myself. In the recent episodes she explores the issue of racism and Black Lives Matter movement by diving deep into shame and cultural prejudices while admitting to her unawareness and passivity in fighting for equal treatment. Unlocking Us is a perfect podcast to delve into your emotions but also to laugh with the cheerful Brene.
Cut Through Nutrition
Don't be deceived by the name – this is not another diet podcast which will tell you how to lose weight or start "healthy living" a.k.a. not starting any particular diet but controlling your intake to micromanage your body… Led by Dr Joshua Wolrich, a surgical trainee in London, and Alan Flanagan pursuing his PhD in Medical Nutrition, the podcast is dedicated to those who want to improve their relationship with food and to all the truth seekers to the nutritional myths and biases.
This cynical duet exposes the Western rhetoric around food, reasons for and effects of weight stigma in medicine, morality attached to food and analyses eating through the lenses of socio-economics and intersectionality. By providing their experience, past beliefs and arguments for why any form of calorie restriction does not work long term they show that it is possible to give yourself an unconditional permission to eat and work on your long term health and life quality. So, if you are looking for something ironic yet very informative and scientific this is definitely one for you.
Magic Lessons with Elizabeth Gilbert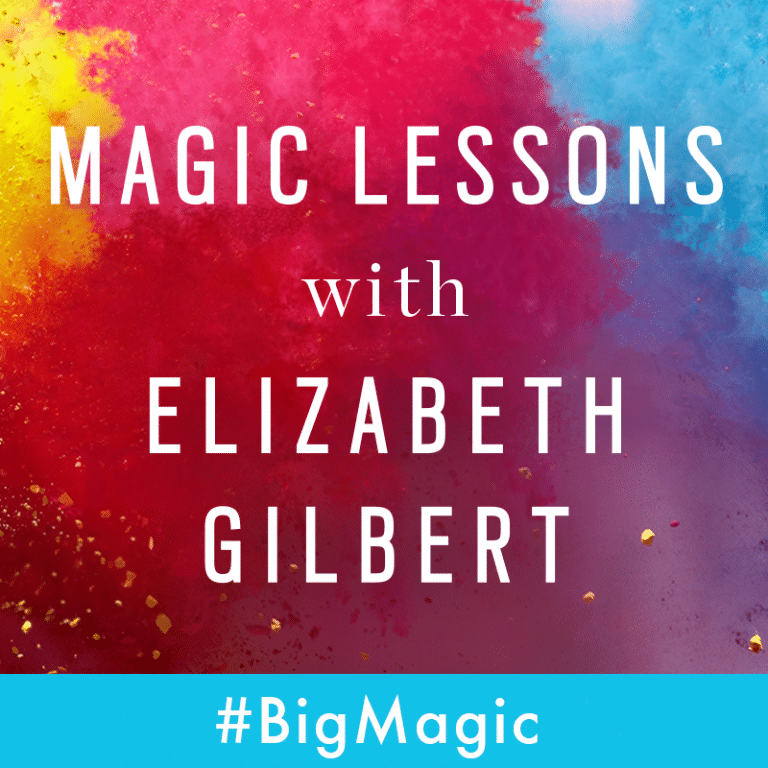 Remember Julia Roberts traversing through three countries in a year, eating gelato and buying new jeans in Italy then wiping the floor in the ashrama and falling in love in Bali? The book Eat, Pray, Love based on which was the famous film, brought Elizabeth Gilbert the amazing recognition put her on the list of the #1 New York Times best sellers authors and raised the bar even higher to bring in another masterpiece.
Gilbert did not let the audience down despite such success and later expectations and produced The Big Magic where she shared her struggles of having a creative job for a living, described the waves of motivation as well as the downhills of such profession which does not always bring her joy. But as Gilbert says, even after finishing a book she still felt like she hasn't finished with the topic.
And this is what the Magic Lessons podcast is all about. In season one she helps her listeners in creative environments to grapple with the guilt, family loyalty, grief and fear of failure and helps find the joy, motivation and self-reinvention in the creative process. In season two she invites her colleagues to share their experience in stepping out of the creative comfort zone. They then respond to the listeners and help them take their career a step further while finding the solution for the self-doubt and fear.
While listening to the podcast we can take the advice from Martha Beck speaker, life coach and writer, Amy Purdy, Paralympian, writer and researcher Brene Brown and many others from the various fields. If you feel stuck in the creative process by self-sabotaging your capabilities or you need an extra push to start make sure to dive into the Magic Lessons.
Featured Image: Pxfuel
(Visited 26 times, 1 visits today)