It's finally award season. We've given our writers a category each and they've decided who they think deserves a mention on this prestigious list.
And the award for best band merch goes to... The Strokes!
This year The Strokes returned with their long-awaited sixth studio album, The New Abnormal. Not only was the music great, but it arrived alongside some new band merch. As a big fan of the band I decided to secure myself the vinyl LP. The package included a classic-design t-shirt as well as album art and posters.
The LP packaging is multi-layered and visually apealling, with a transparent outer cover protecting the album cover and the contrasting orange sleeve within. The mood of the album is ingrained in all of the merch; with a bright, summery vibe consistent throughout.
The album cover of The New Abnormal is a 1981 piece by Jean-Michel Basquiat known as 'Bird on Money'. As one of the most noteworthy neo-expressionist artists, Basquiat's art was vivid and abstract, exploring normal human concepts through the lens of rough subjectivity. The New Abnormal embodies many of the same characteristics; vivid, abstract and expressive. This album cover came both in the form of the inner vinyl packaging and as a large poster.
Oren Brown
Next up is a sad one. The award for the best gig that never happened goes to.. My Chemical Romance - Live from Milton Keynes!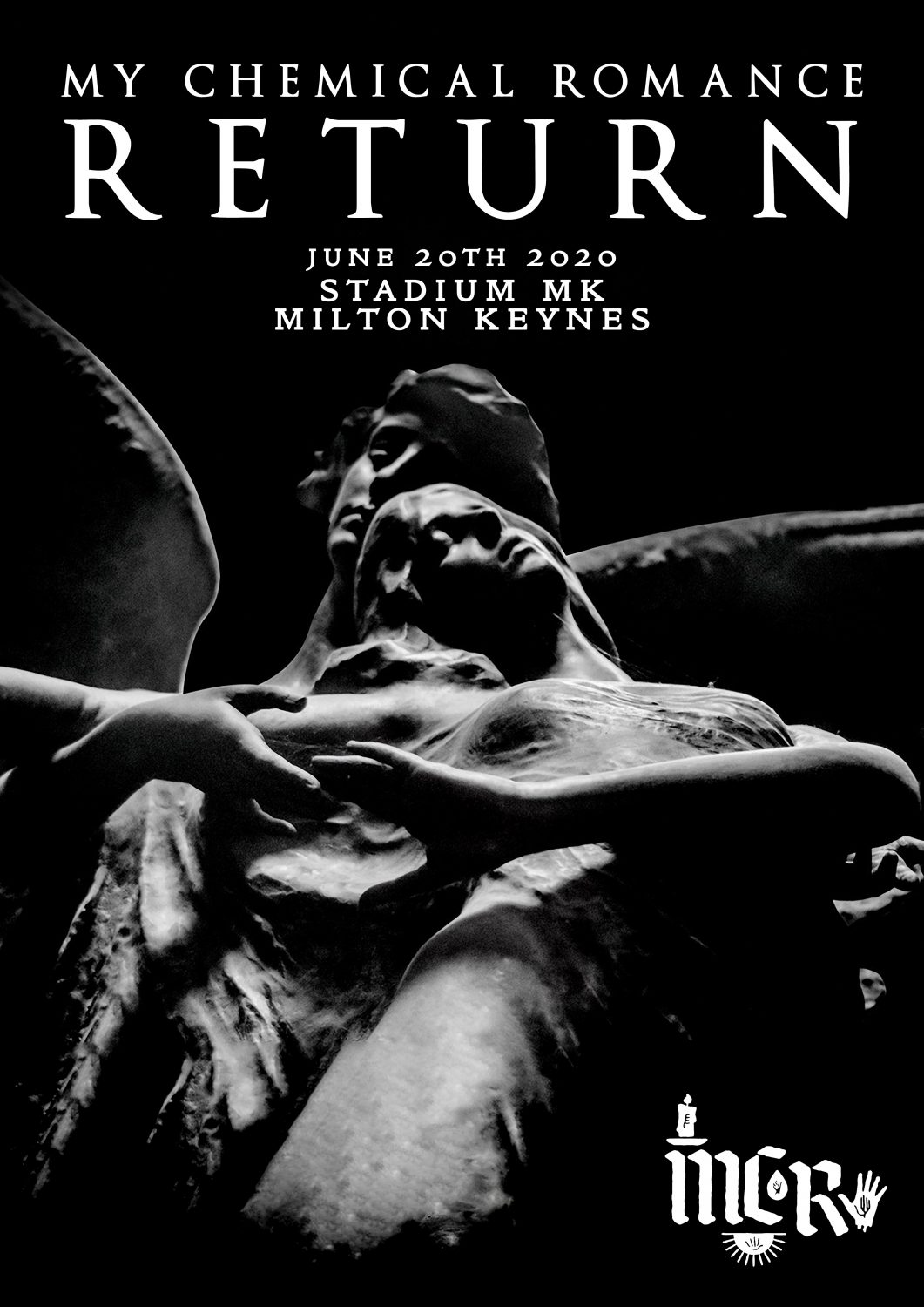 Please take me back to crying in a club toilet at the news of an MCR reunion. Since their break-up in 2013, every minor website tweak would induce hopeful hysteria in millions of devotees, praying that the 2019 comeback mythologised in final album Dangers Day would come true. That the iconic emo heroes would be playing shows again, including a trio of UK dates, seemed beyond surreal. Unfortunately 2020 would proceed to throw up a lot worse on the unbelievable scale; the concerts, originally scheduled for June 2020, were postponed until at least next summer.
In an optimistic sense, the months-long absence of live music has potential to make these shows even more legendary. Lockdown saw many of us return to live among the dusty diaries of our childhood bedrooms, coping with the turbulence through the same media our teenage selves did. There is no better place to rediscover the bands you adored aged 13 than in the very room you first cried over 'The Light Behind Your Eyes'. MCR's anger, creativity and defiance, nostalgically wrapped in the sounds of emo's heyday, are the perfect hopeful antidote.
The pandemic has devastated the live music industry and cancelled so many gigs that the idea of sweating in a crowded room is for now unimaginable. At least it's given us another year to work out how the hell to travel to Milton Keynes.
Leonie Bellini
Lets bring the mood back up again. The award for best shift in sound goes to... Harry Styles!
After I finished listening to Fine Line, the most remarkable conclusion I came to was the diversity in the sound. Although Styles' is popularly enlisted as a Pop/Rock singer, his latest album sets him apart into undistinguishable categories. With 70s soft rock, a track like 'Canyon Moon' transports you to the floral bell-bottoms and flower crown days of The Beatles and Fleetwood Mac, a sound which has never been heard in Styles' music before.
The sweet acoustic melodies of 'To Be So Lonely' with longing-filled violin strings deliver a confessional sound, filling the song with compositional charm and simple, yet compelling lyrics. Furthermore, 'She' similarly shares an edgy, guitar-dominant quality where the simple vocals try to flow along with the sound, instead of being overpowering. Then there's 'Golden', 'Sunflower Vol. 6' and 'Lights Up' which sweep in with happy orchestral background vocals and swinging beats which establish an innocent, self-confident and more ethereal quality to the album. 'Adore You' and 'Watermelon Sugar', as quite cleverly chosen by Styles are perfectly cheerful summer songs, with a vibrant multi-coloured essence to it.
'Cherry' and 'Falling' share a bittersweet, vulnerable and heart-breaking emotion, which the singer isn't afraid to so with his high-pitched vocalisations, folksy guitar chords and edited-in voice mails. Ending with 'Fine Line' and 'Treat People With Kindness', it is well worth appreciating that Harry brings in a community and collective-based chorus to highlight how important it is for him to live and share the trait of kindness he has long preached for.
After a successfully-established career in One Direction, Styles has definitely made it clear with his first two albums that his primary motive as a solo artist is to experiment with music, and go with what he feels is above all, honest to him.
Arnojya Shree
Get ready to boo people, this years biggest dickhead in music award goes to... Matty Healy! Congrats Matty?
His biggest blunder this year was promoting his own music in response to the tragic murder of George Floyd – in a now deleted tweet he said, "If you truly believe that 'ALL LIVES MATTER' you need to stop facilitating the end of black ones." with a link to their song 'Love It If We Made It' - although the message is in favour of the BLM movement, the promotion of his music which he and his bandmates - white men, would profit from, did not sit well with many people. Additionally, his repetitive use of offensive slurs once again came to light this year, using a homophobic slur in their song 'Roadkill' after being accused of insensitivity in the past.
He presents himself as a 'woke' activist icon and then goes about his activism in a questionable way. Last year whilst being in the UAE where homosexuality is illegal, he kissed a male fan during a performance, endangering his life, and leading people to question if this was activism or just about shock factor. Furthermore, his superiority complex transcends into his attitude to himself "There is an element of feeling a bit like the Messiah… somebody for whom the world does truly revolve around them."
Definitely worthy of this title.
Charlotte Airey
Now for the most wholesome award! The winner is... awww isn't he sweet! It's Lewis Capaldi!
Whether you love him or hate him, he seems pretty drama free - take when Noel Gallagher called him an 'idiot' and he took it right on the chin. Compared to normal celebrity drama, the comedic approach taken by Capaldi was a welcome break.
His down-to-earth nature is also a change from the over-arching falsity of social media. With the emphasis of 'reality' being at the forefront of social media debates, Capaldi takes no liberties. From unflattering close-up selfies to his 'tracksuits' highlight on Instagram, he's not obsessed with looking a certain way or portraying himself as anything but a genuinely funny guy. Capaldi's humour online displays a want to make people laugh and therefore bring a bit of happiness into people's day. Seeing his witty remarks whether it be self-critical or to relatable posts online makes the internet that much better.
Despite his celebrity status, Capaldi's wholesomeness spans far past that of many other artists. He seems so much more normal and real and his tenacity to make people happy as well as resonate to his music makes him seem like a bloke that would get on with anyone, anywhere.
Gabbi De Boer
And finally, the award for best newcomer goes to... Rina Sawayama!
Rina Sawayama stakes a claim for not just the best newcomer, but greatest developed artist in a year that saw her release her debut album, make her debut T.V. appearance, and sell out a UK and North American tour.
Released in March, the critically acclaimed SAWAYAMA is a journey through avant-pop, hyper-dance and synth ballads- peaking at 8 in the UK Indie charts, and receiving a "best album of the year so far" compliment from Sir Elton John, incredibly after his feature on Lady Gaga's Chromatica was released. Her meteoric rise was capped by selling out her May 2021 tour of the UK and North America, which has since been rescheduled to the Autumn; but resultantly has swapped venues to accommodate more of her fanbase (affectionately known as her PIXELS)- including her debut show at Camden's iconic Roundhouse.
And she's begun to make waves with television personalities, appearing on Jimmy Fallon in early November to perform a souped up, enigmatic take on XS, the distinctive and fan-favourite single from SAWAYAMA. Alongside the album, there's also been several collaborative remixes, with 'XS', 'Comme des Garcon' and 'Bad Friend' (twice) all receiving specialist treatment. Several stand alone singles- including a soft take on Gaga's 'Dance in the Dark', a sexy and vivacious cover of The 1975's 'Love it if we made it', and the Bloodpop produced 'Lucid'- emphasised Rina's burgeoning and prodigious career. All of these also find their way onto SAWAYAMA Deluxe, released last Friday alongside a couple of hundred tickets for her rescheduled tour, which promises to be a stunning live production.
Thomas Wrath
That's all from us folks, thanks for tuning in, we'll see you next year, hopefully...
(Visited 174 times, 1 visits today)