As it forms such a huge part of our culture both nationally and globally, there is inevitably a huge amount of literature surrounding the world of music. Here our writers highlight their favourites that you can buy or loan right now.
Miles: The Autobiography
Miles: The Autobiography is the closest you will ever get to chatting with Miles Davis in a dark, smoky pub over a pint. The title is misleading; it is closer to a confession/manifesto hybrid, discussing his friendships, feelings, music and — of course — copious amounts of substance abuse and sex. Beyond his ostensible praise of hedonism, there are tragic notes, discussions of the numerous racial assaults he has been victim to, discussions of his friends' degrading mental and physical health through heroin.
Over the course of the book, he gives faces and stories to the names which have become deified in the jazz community: Bill Evans, Louis Armstrong, Charlie Parker, Dizzy Gillespie, John Coltrane, etc.. We also get stories of figures outside of jazz: Prince, Jimi Hendrix, B.B. King, even Nancy Reagan. Celebrity autobiographies often risk becoming encyclopaedic or excessively linear in their narrative, yet Davis never toes the line of dullness. Every fourth word seems to be a vulgarity and every name seems to be followed by the phrase "he was a bad motherf***er".
Even if you have no interest in Davis as a man or a musician, it is worth reading for his voice and humour alone. To prove this, I leave you with the first line of the book:
"Listen. The greatest feeling I ever had in my life — with my clothes on — was when I first heard Diz and Bird together in St. Louis, Missouri, back in 1944."
Brilliant!
Josh Smith
Acid For The Children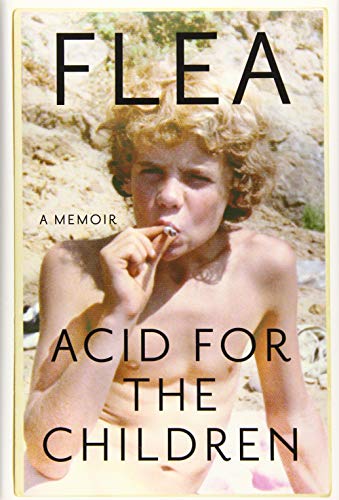 The vibrant bassist from the Red Hot Chili Peppers, known due to his erratic and jumpy style on stage as Flea, offered fans an insightful look into his career last year in his first literature release: Acid For The Children.
As a huge fan of the RHCP I knew I had to give it a read, and I was one of the first to grab the book on its release date in November 2019.
One of the major take-backs I got from the autobiography would be its readability. I wasn't glued to every single page but instead chose to pick and choose certain sections as I learned more on his early exposure to jazz music, his origins as a brass player, and the formative years of one of the biggest rock bands in the world.
The book was as informative as it was ethereal, with much of the text used to discuss spiritualism, Flea's own personal beliefs and the inspiration that he receives from much of the natural world. His love of travelling and his lust for exploring different ways of life provided a really interesting angle to the rock bassist, with the majority of the text relaying his life before the band.
And that was a really exciting catalyst for the book. Getting to learn more about Flea as a person, as opposed to Flea the musician, made me see his character in a whole new light. It reminded me much of reading Matthew McConaughey's Green Lights, seeing these people as precisely that: people.
I would highly recommend the text to not only fans of the musician, but to those wanting to learn more about how we can take inspiration from things out of our control.
Tom Moorcroft
(Visited 45 times, 1 visits today)