A new North-East landmark is set to spring from a quayside carpark. Whilst this 80,000 sq. ft. development plan expects to create 1000 jobs and support the economy, has anyone considered the visual impact this will establish on the riverside?
Gateshead Quays Complex, meant to open in 2023, will not only provide the area with a hotel, restaurants, a conference centre and an exhibition space, but will also form outdoor public spaces with vegetation and views out towards the Tyne. While it is clear that a lot of thought has been put into the landscaping of the outdoor space within the complex's site, I cannot say the same for the surrounding area; there is no visible integration between the building and its site.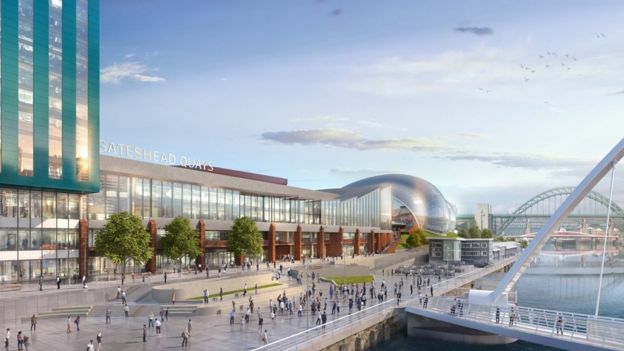 However, the materiality of the proposal is arguably considerate of its environment and chosen well with the larger site in mind. It is remarkable how the Newcastle Quayside preserves a historic mixture of architectural language, whilst the Gateshead Quayside chooses to modernise and juxtapose itself against Newcastle. These new plans follow the same sentiment and carefully place the building within its location.
From certain points of view, the glass façade seamlessly flows and merges with the neighbouring Sage
Another prominent material aspect in the design is the use of brick at ground level, which I assume derives from the nearby Baltic Centre. It is striking how much the material language of the site has been reflected and integrated within the proposals.
On the downside, the hotel section appears less sensitive to its surroundings. Both the colour and material stand out, more reminiscent of the Royal Victoria Hospital's teal facade. It towers over the site and fits in less with the rest of the development than it does with existing Quayside buildings.
While the proposal is unquestionably a positive addition to the area, it does have its disadvantages. We are left to hope that the fruits of the development will outshine its drawbacks.
Featured Image: HOK
(Visited 32 times, 1 visits today)